Language Services
Solutions for Multilingual & Multicultural Meetings
In today's multilingual business environment, Convex is trusted as a reliable partner with the highest level of professionalism. We dispatch interpreters everywhere in Japan, and provide multilingual interpreters to accompany individuals and groups for events and meetings wherever they may be.
We guarantee confidentiality, accuracy, prompt service, and expertise in any language, helping clients make the most of international opportunities.
Interpretation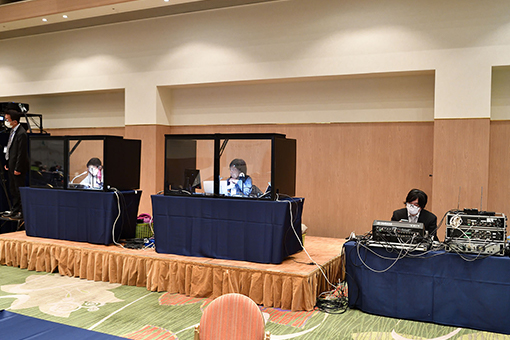 Conferences: International conferences, seminars, symposia, conventions, academic meetings, press launches, etc.
Broadcasts: Dual-language broadcasts, Video editing
General: Accompanying service, company visits
Operation for Simultaneous Interpretation System
Main Languages
Japanese

⇄
English/French/
German/Mandarin/
Korean
English

⇄
French/German/
Spanish
Types of Interpretation
Simultaneous
The interpreter listens to the speaker's voice in a specialized booth and delivers the interpretation to the listener's earphones through special equipment. The audio can be delivered to many target audiences simultaneously.
E.g.: Conventions, conferences, symposia, seminars etc.
Consecutive
The speaker speaks with appropriate pauses and an interpretation is provided during each pause. It is suitable for scenes where you want to convey the content more accurately.
E.g.: Business discussions, small group meetings and interviews, press conferences, accompanying service, talk shows etc.
Whispered
As with simultaneous interpretation, the interpretation is performed while listening to the speaker's remarks, but without using a microphone or earphones, it is performed with a whispering voice from the immediate vicinity such as near or behind the speaker.
E.g.: Symposia, conferences, opinion exchange meetings, business meetings, interview support etc.
Other Services
Translation, Narrations/
Transcription, Shorthand/
minute taking